Artificial Panda White Marble Look Quartz Slab NT417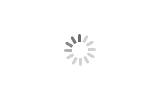 Artificial Panda White Marble Look Quartz Slab NT417
yeyang

CHINA

About 20-30 days After Order Confirmed

5000m2 Per Month
Artificial Panda White Color Marble Look Quartz Slab NT417
white panda quartz
Competitive prices
Unique Black Veinings
Good combination of lines, veins, background.

The quartz surface production process involving heat, vibration, and vacuum compaction combined with the composition of natural quartz and engineered resins produce a virtually non-porous surface. This surface is unaffected by most common household products, foods, and liquids.
Artificial Panda White Marble Look Quartz Slab NT417
You may like the natural beauty of panda white marble, but don't like the price, our calacatta NT417 panda stone quartz can meet your requests, a sleek white background is intersected with bold black veins throughout that will almost convince everyone that it is naturally mined marble.
1.Specification:
Material

About 93% natural quartz sands(silica), 6-8% polyester resin, 1% pigment

Mohs Hardness 6-7

Slab Size(mm)
3220x1620,3200x1600,3050x1520,3030x1450,3000x14000
Thickness
15mm, 18mm, 20mm, 25mm, 30mm
Color
White,Black,Grey,Beige,Red,Grey,calacatta,etc
Finish

A. Surface Finish: Polished, Honed, Leather, Antique, Abrasive Blasting.

B. Edge Finish: Flat, Bevel, Laminated, Bullnose, Ogee,etc.

Application

Widely used as inner wall cladding, flooring, kitchen countertop bathroom vanity top, table top, bench tops, office desk tops in super market mall, airport, hotel, and apartments, etc.

Match Color
Accept
Product picture
Panda white marble quartz slab as follow: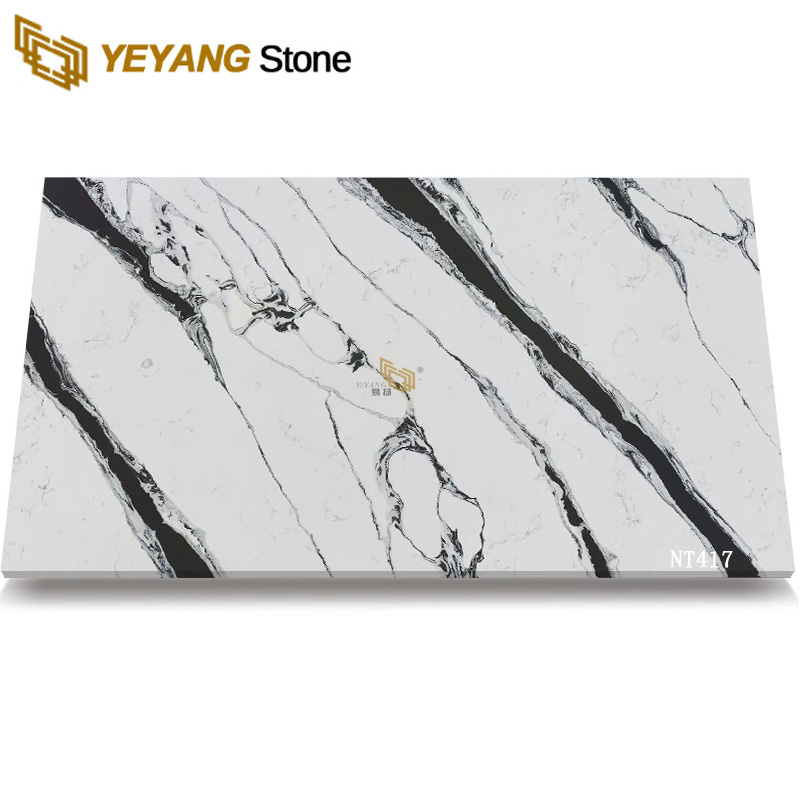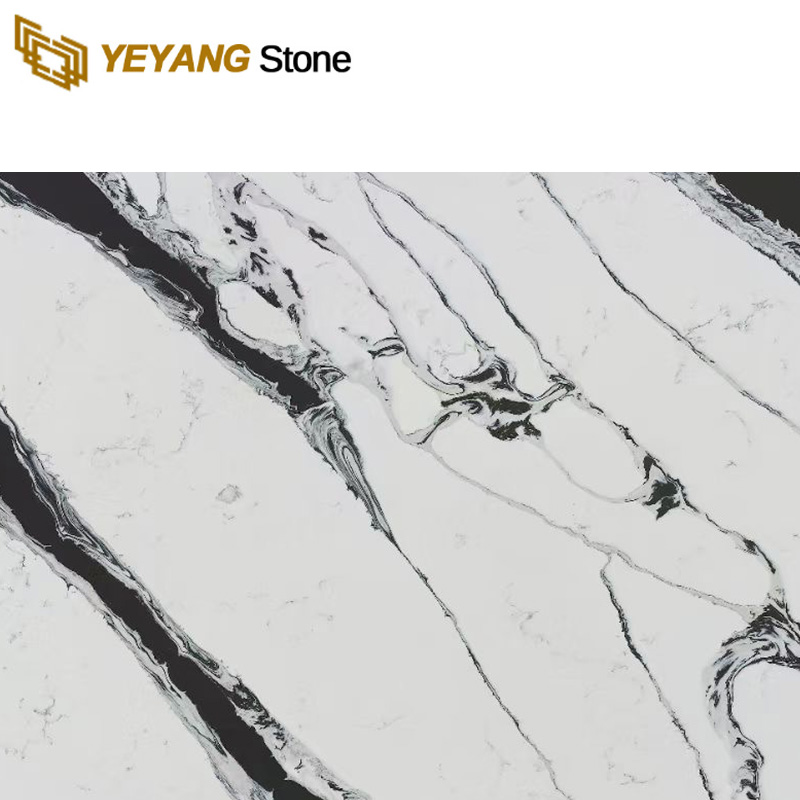 White Quartz Marble Look Panda Countertops As Follow: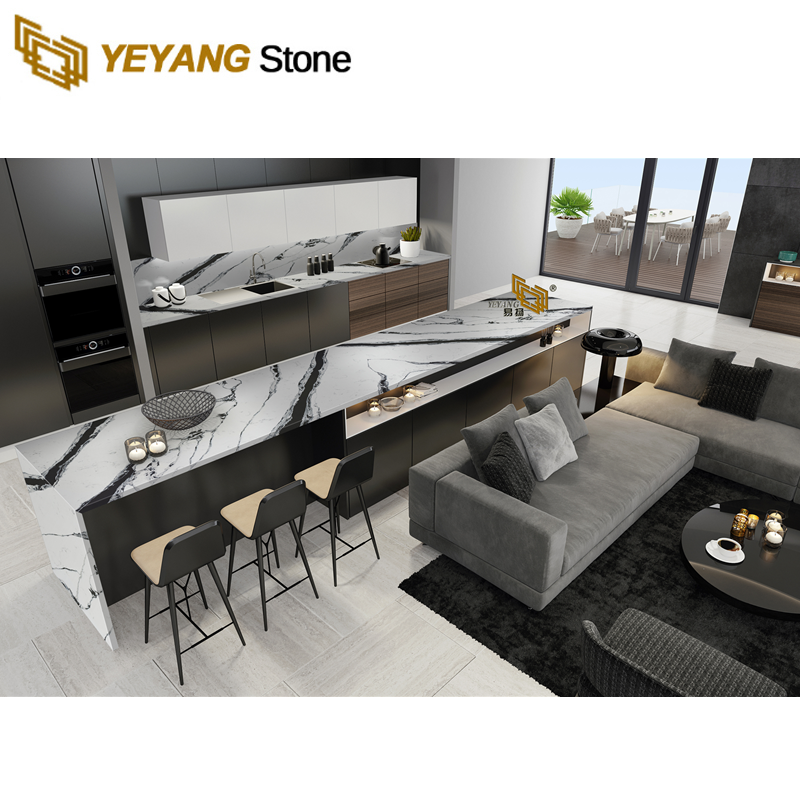 1. Quality Control:
A: Machine: Heavy-duty machine>70 tons to pressing,to make sure high density of about 2.4g/cm3.
B: Temprature: Up to 90 degree temperature hearting until to melt & solid,for perfect penetration and heated evenly for both sides (Water absorption<0.03%; Moh's Hardness>6.5).
C: Material: Premium quartz,calcium powder and high quality polyester resin proportion is strictly controlled. Because polyester resin cost is high,many Chinese factory used more calcium powder for production,it cause problems that color will become yellow after some time.
2.Composition: 93% quartz stone,7% resin,pigment,and other materials.
3.Popular Size: 3200*1400mm,3200*1600mm,800*800mm,600*600mm,300*600mm
4.Thickness: 12mm,15mm,20mm,30mm
5.Capability: 9 Automatic productions , 1,000,000 SQM per year.
6. Usage: Quartz stone is widely used for kitchen tops, kitchen islands, countertops, bathroom vanity tops, shower stalls, table tops, hotel floor tile, wall tiles and so on.
About Us:
Since 1993, along with many years' development, we have granite & roman travertine quarry more than 10 quarries,and also we are including two trade company and three factories, our factory area is more than 60,000 m². not only it plus fully assorted more than 20 factories owned by the family of Yeyang stone groups, we are the only one company who has the family factories are also into the travertine, sandstone, artificial stones, paving stone, sculpture products and so on.
Slabs Packing:
1) Inner packing: Cartons or foamed plastics (polystyrene).
2) Out packing: Seaworthy wooden crated with fumigation.
Why Choose Us?
Yeyang Stone is a family-owned Company founded in 1993 with over 28 years of experience in the Fabrication of quartz stone products as well as providing excellent Customer Service.We offer various quartzs aperiodically every month, such as popular calacatta quartz, sparkle quartz stone, luxury quartz ,white marble looking crystal quartz and so on, we have our own quartz factory that about 150,000 sqft and has 2 pressing lines for excellent basic popular quartz colors, like pure colors and colors with some flecks, as our main market is for hospitality and multifamily projects using this economical quartz.
1. Competitive Price:
As a manufacturer, we are competitive in price. We have been selling to more than 20countries regularly, critical market and most price competitive.
2. Multiple Products:
We have a professional product development team, and we regularly develop new products for the market. So far, we have more than 100 types of quartz stone products for customers to choose from.
3. Quality Control:
The quality of all products is under our control strictly, so we could make sure that what we offer to you is superior and quality product. From the beginning of production to the examination of finished goods, we all try our best to avoid any mistakes carefully.