YEYANG Stone Packing & Loading
YEYANG Stone Packing & Loading

Package is an important process in transporting stone, to package the products in the safest way,we build up a packaging workshop. Upon the request of customers,we provide various packaging ways, such as wooden-crate,three-ply board,Pvc,paper create,wood hanger,pallets etc.
And Other package ways are also welcome. Just let us know what you want. You just need to wait for receiving all the products.
Countertop Packing Process: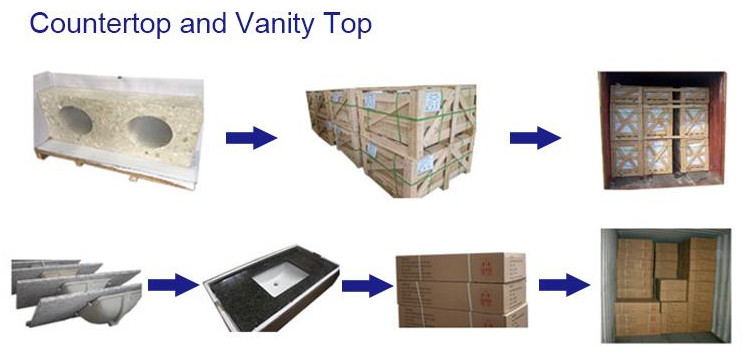 1First, you will receive digital inspection photos (through email) before your countertops are packed for shipping. This gives the customer an opportunity to see the actual countertops before they leave our factory.
Because we adhere to a strick quality-control system, its rare that an error occurs during the manufacturing process. Inspection photos simply provide an added sense of security to ensure accuracy with every order.

2.Each piece of stone is then individually wrapped in a plastic, then a puncture-resistant heavy foam-rubber material.
3.The countertops are then packed into a welded steel-frame crate, lined with plywood panels. The inside of the crate is padded with styro-foam sheets. Each piece of stone is carefully isolated from the others, eliminating the possibility of chips and scratches from stone-on-stone contact.
4. The end result is a secure, fork-lift accessible shipping crate that is both durable and easy to unpack upon arrival. The countertops can be removed from the crate, one piece at a time. No other company does what we do to ensure that your countertops will arrive safely. It is this attention to detail that allows us to guarantee replacement, in the event that a piece of stone arrives damaged.