Quartz stone has strong heat resistance (150°C)
20-08-2022
Quartz is more heat resistant than other stone surfaces including most granite, marble and limestone; and is not affected by temperatures lower than 150°C (300°F).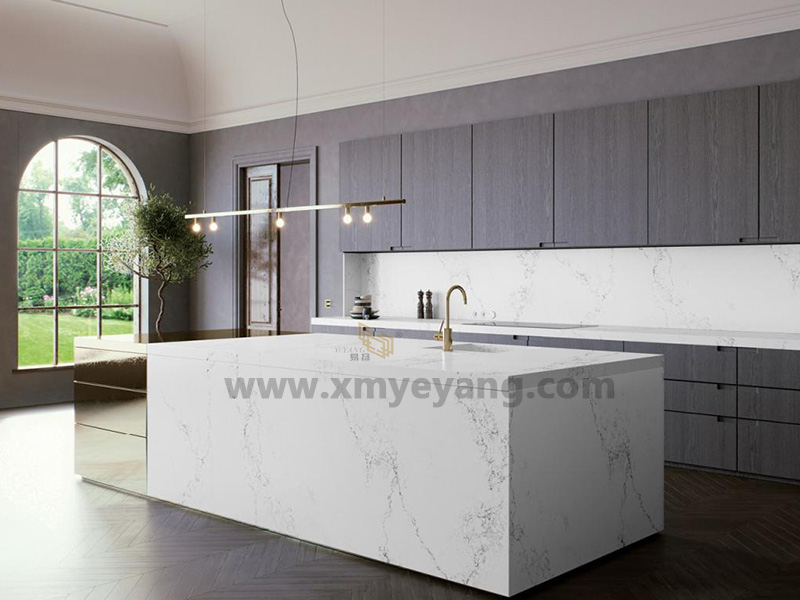 However, like all stone material, quartz(Calacatta and Marble-Like Veined Quartz Slab A5090) can be damaged by sudden and rapid temperature changes.
Therefore, we suggest that hot pots, saucepans, and frying pans never be directly placed on the surface.
We recommend the use of a chopping board, hot pad or trivet be placed on the surface under cooking units such as electric frying pans, deep fat fryers, crock pots, roaster ovens, etc.
By doing this you will avoid leaving burn marks on the quartz.
What We Do
As a quartz supplier, Xiamen YEYANG specializes in providing our network of wholesalers, fabricators, and contractors with the best quality quartz products for stone projects.
We fabricate a variety of quartz colors that are affordable, durable, and innovative. Our quartz is manufactured by using 93% silica sand combined with 7% of polyester resin, pigments and more, pressed and polished by world advanced machines, bringing high-performance surfaces that create a lifetime of beauty. Most of our workers are at least 5 years' experience in their expertise. With their hard-working and high efficiency, we are able to fabricate 800 slabs per day.
For countertops, we use computer pre-programmed CNC machine and auto sink cut out machines for accurate and quicker fabrication. We care about every order no matter it is big or small. For different products, we have different packing methods, from wooden to plywood, crating to pallets, etc.
The fabrication and templating process take place in our own factory, allowing us to meet the exact specifications of our customers. With our own R & D department, we are able to carry over 100+ modern quartz colors. The wide variety makes it possible for us to offer you more choices for your projects. We are committed to continuous quality improvement and company advancement, through professionalism and prompt delivery of superior material.