Your Calacatta Quartz will be produced like this after we establish a partnership?
01-09-2022
After the confirmation of the quartz(calacatta white) sample product by our client, we went ahead into the large-scale production proper, and we followed our usual production process which usually goes in the following order;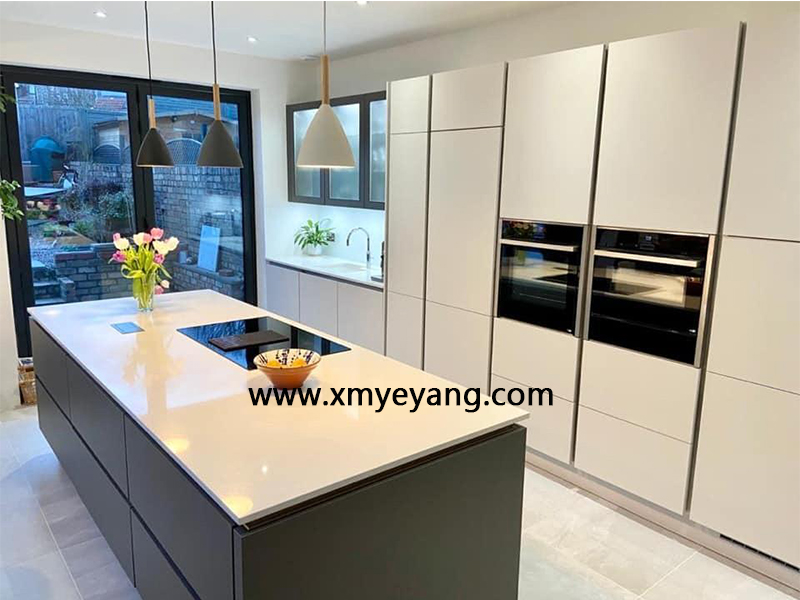 1. Our customer chooses their Preferred style
As it is our custom, we are always open to our customer's choices and specifications. However, with our wealth of experience in the trade, we may offer some useful suggestions to our clients in order to ensure that we give them nothing but the best.
2. Confirmation of Quotation
Based on whatever style our customer must have chosen, we prepared a reasonable and pocket-friendly quotation that will be within our customer's budget for the products and style which they requested for.
3. Delivery of Product Sample
After our quotation was accepted by our British customer, we went ahead to produce a pilot sample, which we sent to our customers for their perusal.
4. Confirmation of Sample by our Customer
After receiving the sample product sent to our client, they were impressed by the design, and we received the go-ahead from them to continue with the large scale production of the quartz stone slab.
5. The customer makes a Deposit for mass production
As the sample product has successfully passed their inspection, and they confirmed it to be exactly what they requested, they deposited the payment for the mass production of the order.
6. Mass Production of products
Without wasting any time further, our team of workers went straight into the production process, and every hand was on deck to ensure that we were on time with the delivery, and still having quality at heart.
7. Packaging and Delivery

After the successful production of the entire quartz stone slab that was ordered by our client, the product was well-packaged and shipped out of our factory precisely on time.
Xiamen Yeyang Stone Groups have been in stone manufacturing field for over 28.
Since 2012, we have opened a quartz stone factory and established our own quartz stone technology research and development team, as well as our own sales team. Over the years, it has gradually become a relatively influential quartz stone supplier in the quartz stone industry. Thanks to advanced high-tech production lines and professional technicians, we have a unique advantage among our peers. We are good at producing engineered countertops (standard countertops, custom size countertops) and high-quality Calacatta white, Calacatta gold, and large-sized slabs, which can provide our customers with preferential prices and the best service support.
YEYANG Stone has maintained a strong reputation over the years as a trusted supplier of quartz stone slabs to a wide range of global customers. And, we continuously guarantee quality to ensure that customers enjoy the optimum experience.
If you are looking for advice on calacatta quartz slab, our team is always ready to help.