Artificial Engineered Stone Panda White Quartz Slab for Kitchen Countertop-B4031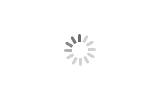 Artificial Engineered Stone Panda White Quartz Slab for Kitchen Countertop-B4031
yeyang

CHINA

About 20-30 days After Order Confirmed

5000m2 Per Month
Artificial white panda quartz slab for countertop engineer. The vein of this product is very special, different from other similar products. This product can give you a favorable advantage in the market competition. This lovely neutral quartz won't let you down!
Artificial Engineered Stone Panda White Quartz Slab for Kitchen Countertop B4031
The purest white base contrasts with strong and soft black veins, creating a "panda quartz stone" that combined with the delicate texture of natural Panda White marble and the outstanding performance of quartz.
Product Description
Description
White Calacatta Quartz Stone for Kitchentop/Countertops/Slab in House Project
Material
93% quartz powder, 5% resin and 2% pigment.
Products
Quartz slab, quartz cut-to-size, quartz countertop, quartz island, quartz vanity top, etc.
Color
Calacatta, marble, single, double & multiple, pure, small grain particles colors, solid colors and customized colors.
Size
Quartz slab: 3000 X 1400mm, 3000 X 1600mm, 3200 X 1600mm, 3200 x 1650mm, etc.
Quartz cut-to-size: 1200mm X 1200mm, 1200mm X 800mm, 800mm X 800mm, 600 X 600mm, 600 X 300mm, 300 X 300mm, etc.
Quartz countertop: 25.5"X96", 26"X96", 25.5"X108", 26.5"X108", 28"X96", 28"X108".
Quartz island: 96"X36", 76"X36", 98"X42", 76"X42", 86"X42".
Quartz vanity top: 25"X22", 31"X22", 37"X22", 49"X22", 61"X22".
Thickness
15mm, 18mm, 20mm, 30mm.
Finish
Surface Finish: Polished.
Side Finish: Flat, Stright, Bevel, Bullnose, Full Bullnose, Ogee, etc.
Application
Counter tops, kitchen tops bathroom vanity top, worktops, laundry, table tops, bench top, island tops, bar tops, backsplashes, shower stalls, tub surrounds ,wall tile, wall cladding, floor tile, and airport, station, shopping mall, hotel, bank, hospital.
MOQ
100 Square meters
Payment Term
30% deposit by T/T, 70% balance on sight of the copy B/L
Production Time
15-30days
Our B4031 panda stone white quartz with black veining can give you the real stone look while being durable for creating lovely panda counters for busy kitchens.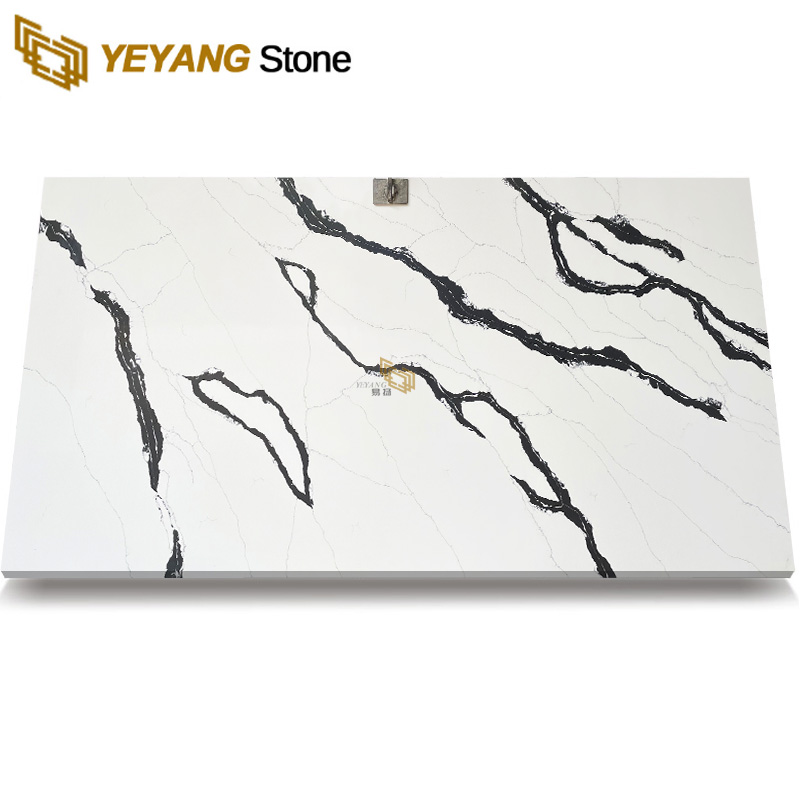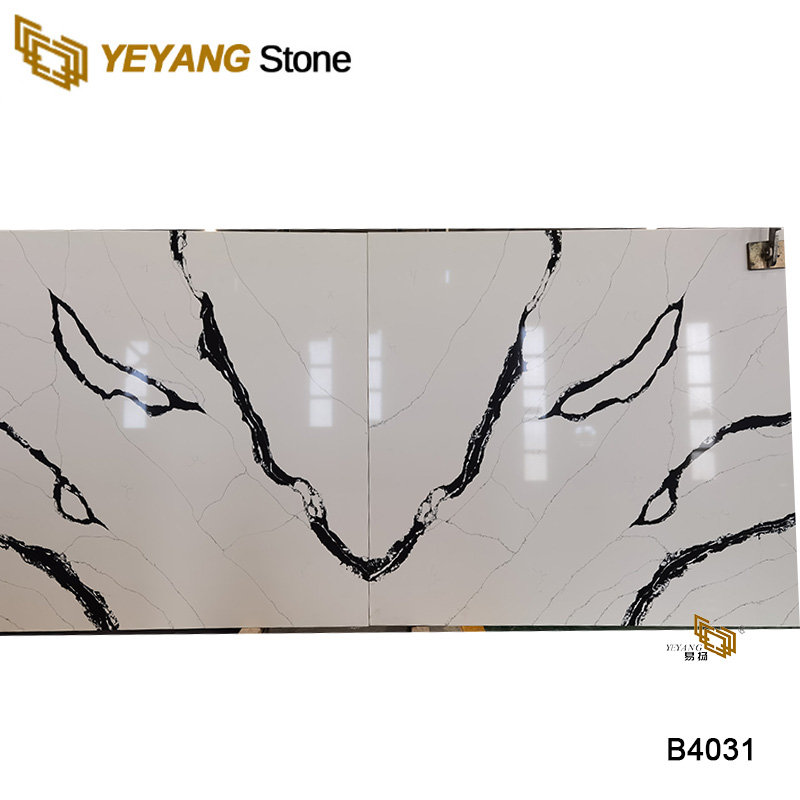 With following advantages, believing that we are a good choice for you when you need calacatta quartz :
1. Top quality material (A Grade) with competitive price
2. Rich experience in exporting business(More than 20 years)
3. Own factory ensure a quick delievery
4. Pofessional workers and QC for producing and inspection
5. Strong packing and well container loading
6. Good after-sale service
About Quartz Stone
Quartz is one of nature's hardest minerals. Our quartz stone is composed of up to 93% quartz powder and 7% resin, pigments. During the unique production process, we combine the quartz sand with high-performance polymers and a small number of pigments. Made durable and beautiful artificial stone countertop quartz in a wide variety of colors.
Artificial stone advantages:
1. Easy to clean
2. Impact resistance: Compared with natural stone, anti-burst cracking stronger, small scratches and cuts are available sandpaper removed.
3. Heat resistance: more heat-resistant than the average surface material.
4. Fire resistance: a fire-retardant material.
5. repairable: severe damage can be repaired, can make long-term use,
6. Non-toxic: do not emit any gas at room temperature.
Recommended Products:
Artificial White Quartz Stone Countertops Big Slabs F6003