Hot Sale White Natural Indoor quartz countertop -02R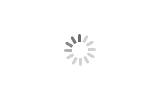 Hot Sale White Natural Indoor quartz countertop -02R
YEYANG

China

About 20-30 days After Order Confirmed

5000m2 Per Month
Right from the commencement of the quartz business, YEYANG has been a reliable source filling the needs of architects, designers, contractors, and fabricators with unparalleled quality and service.
Hot Sale White Natural Indoor quartz countertop O2R
Product Pictures: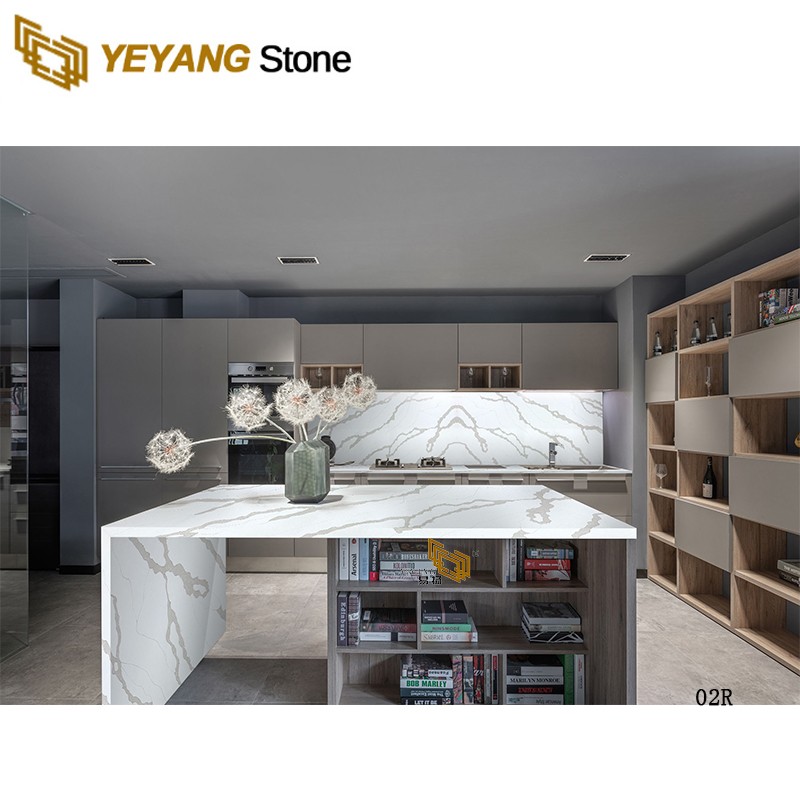 Popular quartz stone countertop edge type:
For countertops, we use computer pre-programmed CNC machine and auto sink cut out machines for accurate and quicker fabrication. We care about every order no matter it is big or small. For different products, we have different packing methods, from wooden to plywood, crating to pallets, etc.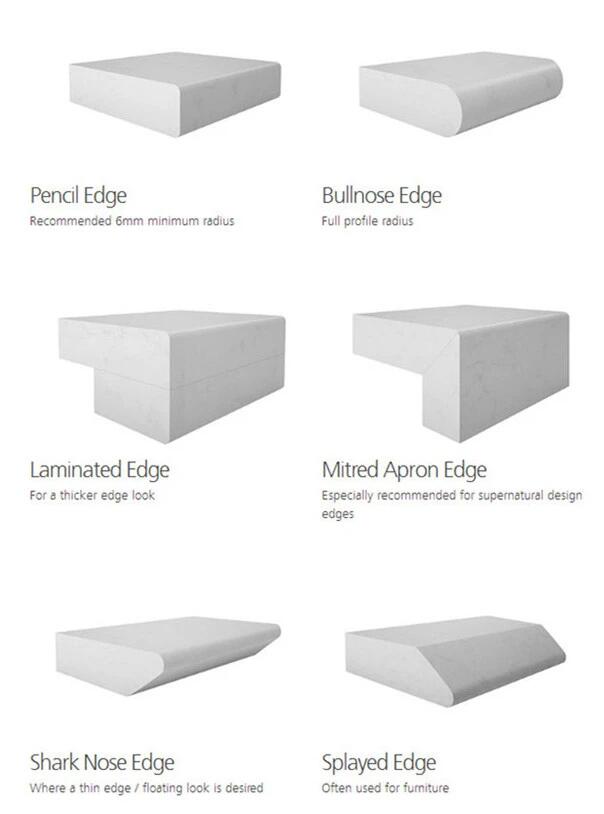 The secret to keeping the quartz stone countertops bright
1. How to clean the quartz stone countertops?
Scrub with detergent. After scrubbing, you can use car wax or furniture wax in your home to coat the surface, which will add a layer of protective film to the countertop. If the seam of the countertop is stained, it should be cleaned and waxed in time. Do not directly touch the quartz stone countertop with high-temperature objects, as it may damage the quartz stone surface. Don't hit the countertop hard or cut things directly on the countertop. Keep the countertop as dry as possible. If the scale stays for too long, the color of the countertop will become lighter and the appearance will be affected. Strictly prevent the contact with strong chemicals on the surface. Quartz stone countertops have long-lasting damage resistance.
Precautions for cabinet installation:
Usually the installation of cabinets is done in two parts, first install the cabinets, and install the countertops one to two days after the door panels are installed.
1. The infrastructure of the entire kitchen space has been completed. (Wall tiles, floor tiles, suspended ceilings)
2. Clean up the place where the cabinets are installed (referring to the ground);
3. If the lamp has been installed at home, please cover the lamp to prevent excessive dust when installing the cabinet countertop; (especially the crystal lamp in the living room)
Popular Size:
Tile

Slab

Kitchen Countertop

Vanity Top

12"x12"

(305X305 or 300X300)

1000(up)*600(up)

96"x36"

25"x22"

24"X12"

(610X305 or 600X300)

1000(up)*700(up)

96"x25 1/2"

31"x19"/22"

24"x24"

(610X610 or 600X600)

1000(up)*900(up)

96"x16"

37"x19"/22"

18"X18"

(457X457)

1800(up)*1200(up)

78"x36"

49"x19"/22"

400*400

2400(up)*1200(up)

78"x25 1/2"

61"x19"/22"

800*800

According to your request

72"x36"

73"x19"/22"

According to your request




As per your drawing

Thickness: 10mm; 12mm; 15mm; 18mm; 20mm; 25mm; 30mm; 35mm; 40mm; 45mm; 50mm; etc.
Packing & Delivery:
Regarding product packing and loading, we also do safe way. We have

rich experienced and professional team to handle product packing, space

availability and stacking in container, ensure that the goods you receive

and you expect are same.

Packing detail

1) Inner packing: Cartons or foamed plastics (polystyrene).
2) Out packing:Seaworthy wooden crated with fumigation.

Delivery detail

1) Delivery Time: 10~15 days after the order confirmed.
2) Shipping Port: Xiamen Port, China